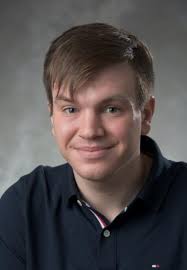 Welcome to Animal Biosciences. I am so happy to welcome you to this amazing community at the University of Guelph. Well, today marks the start of our journey together in Animal Biosciences. I am here to help you figure out where things are and who the key people are to help you. It is critical to know where to find knowledge and information since the university can be a huge and complex place.
Don't be afraid to ask for help. Many people on campus and in the department provide support when you are struggling; in some cases, you may need to speak up and ask for help. So, don't be afraid to ask - this is what we are all here for. We hope that you will feel supported, that you have fun, that you will learn a great deal.
It is important to get connected with your advisors, faculty, groups on campus, clubs, and your resident community. Have fun and build connections. Remember, we are all here to ease your transition.
 -Jake Harwood, Graduate Program Assistant
---
First things first, here are some things you should know and do when you arrive!
---
If you're a thesis student, you'll be given a desk in the department for the duration of your program. This may be in your advisor's lab, or in one of the department's graduate offices. New students are typically given a desk in the basement and are placed on a waiting list for an upstairs desk (to which you can move if you wish, once you're at the top of the list). Please speak to Jake to find out which desks are free and to get a key. You are also required to obtain keys for the rooms and laboratories you will be occupying for the duration of your program (for which you'll deposit $20 per individual key).
Email Subscriptions / Listservs
All graduate students in Animal Biosciences are automatically subscribed to two listservs: ABSC@listserv.uoguelph.ca (department-wide) and ABSC-GRA@listserv.uoguelph.ca (graduate student-exclusive). Both listservs can deliver important information regarding scholarship/award/fellowship/grant opportunities, including their deadlines. Many notices regarding departmental seminars, meetings, and defenses are also sent through these.
International students will also be added to ABSC-GRAINT@uoguelph.ca if they list themselves as international in their webpage.
For anything else...
The staff at the Main Office, particularly our Graduate Program Assistant, are available to assist you at any point in your graduate program. Come down and shoot them a question! You can find information regarding who you should go to for specific questions on the Administrative Staff page. You can also email or talk to the department's Graduate Coordinator, the faculty member responsible for graduate policy and procedures here.
Information about graduate studies at the University of Guelph can be found on the Current Students webpage at the Office of Graduate Studies, and the Graduate Calander.